Euro Truck Simulator 2: Update 1.41 with multiplayer-mode "Convoy" released
Submitted by

playingtux

on 15 Jul 2021 - 4:30pm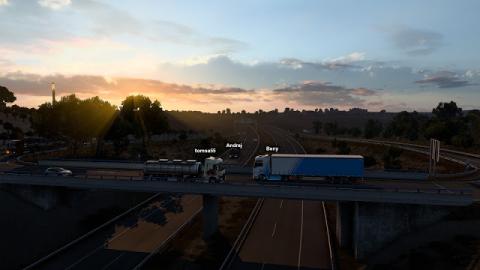 Two days after the release of the update 1.41 for ATS, the Update 1.41 incl. the multiplayer-mode "Convoy" is now also available for the Euro Truck Simulator 2 for Linux on Steam!
Convoy Multiplayer

Convoy is a new multiplayer game mode, where players can set up and host their own private sessions (password optional) to drive with their friends or other fellow truckers. There is currently support for synchronized AI traffic, time and weather, and the ability to take the same job as other players.

Convoy allows you to create and host an online session with up to 8 players. We plan to eventually raise the player limit in the future, however, we are keeping it small at this time due to its work-in-progress nature. Session hosts will automatically be made admins of these sessions, allowing them to ultimately control what kind of environment they want to have online, as well as having the ability to kick any trouble-makers from the session.
The full list of all new features can be found here.